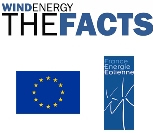 Wind Energy - The Facts
Sunday 15 March 2009, Marseille

10:00 – 16:00
The new edition of the 'Wind Energy - The Facts' publication formed the basis for a comprehensive pre-conference seminar designed to give an insight into all aspects of the wind energy industry.

Newcomers to wind energy and those wishing to refresh their knowledge of
the essential issues concerning wind power today could benefit from a

detailed overview of the wind energy sector, delivered by a consortium of experts from all over Europe.
Organised by French Wind Energy Association (FEE) and the European Wind Energy Association (EWEA), the event brought together a broad range of stakeholders from the wind energy sector, public administration and the media.
---
Please click below to download the PPT presentations in pdf: